Fully automatic attaching machine with electric drive
The EH30 is delivered with 2, 3 or 4 feed hoppers (channels) or hopper systems – depending on the product application.
EH30-2K (2-hopper version)
Attachment of any press stud systems (ring spring, S-spring, FlexFix®, Knipper®) and jeans buttons. Two machines are required for attaching a complete set of press studs.
EH30-3K (3-hopper version) / EH30-4K (4-hopper version)
Attachment of a complete Knipper® system (radial spring)
In the 3-hopper version, a complete Knipper® system, consisting of a pronged ring with a spring eyelet and a pronged ring with a ring stud, can be attached. Different types of pronged rings can be attached with the 4-hopper version, e.g. pronged rings in different surfaces or different prong lengths.
An easy to use programming unit (sequencer) is available to specify the particular combination and sequence of items.
A spring stack compensates for different thicknesses of fabric. The items to be processed can be attached to any type of fabric without a re-calibration of the machine if the type and thickness of the fabric are within the values prescribed by YKK STOCKO FASTENERS.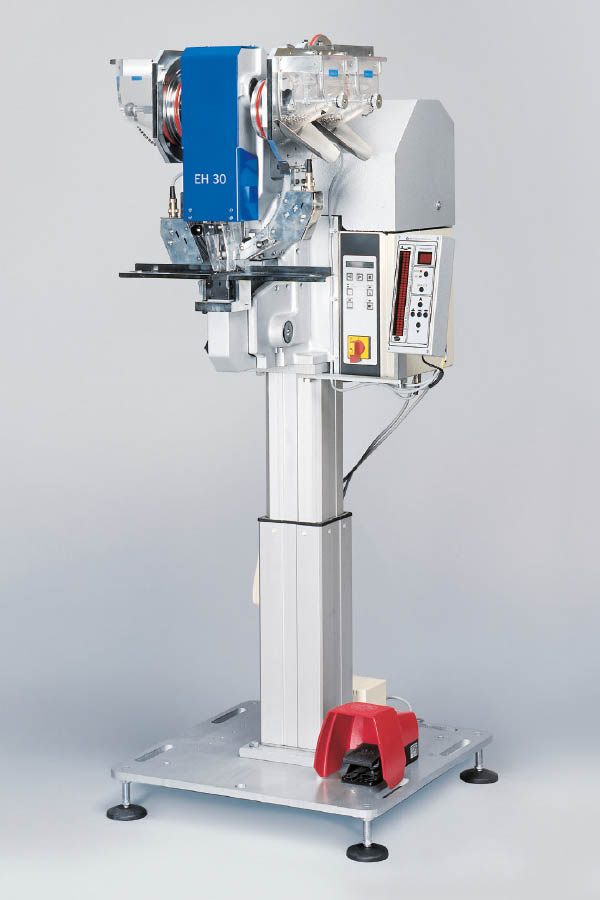 Sighting mechanism (positioning aid)
Rigid (passive) finger guard system
Automatic compensation for fabric thickness (spring stack)
User-friendly due to feed hoppers which can be pivoted to the side
Transparent item container
Quick emptying system for the hopper systems
Separate manual feed lever
Easy to use programming unit (sequence) in 3/4-hopper version
Guide table
Patented, low-noise drive (≤ 78 dB)
CE label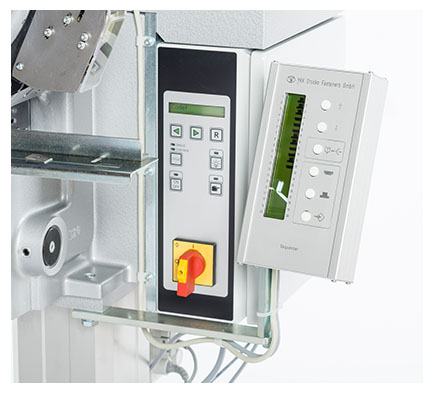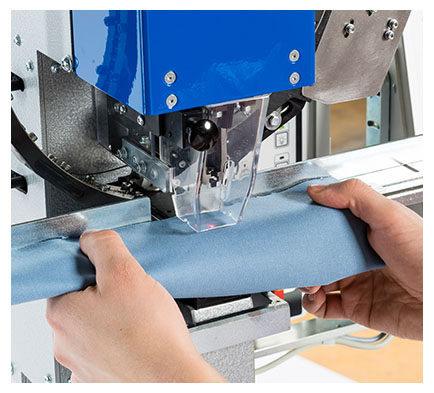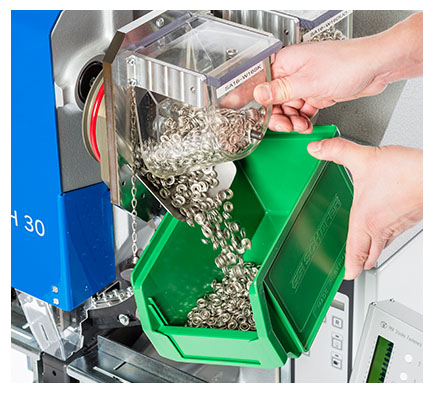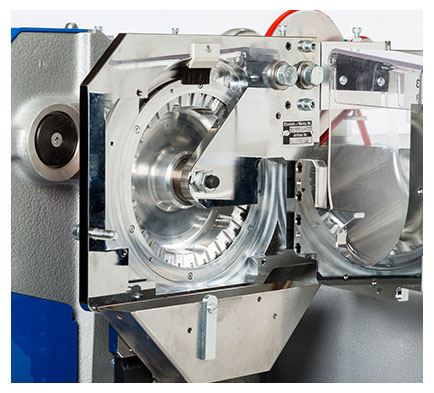 | | 2-HOPPER | 3-HOPPER | 4-HOPPER |
| --- | --- | --- | --- |
| Connection values | 230 V, 50Hz | 230 V, 50Hz | 230 V, 50Hz |
| Attachment performance | 0,25 sec./ cycle | 0,25 sec./ cycle | 0,25 sec./ cycle |
| Attachment pressure | 1000 – 5000 N | 1000 – 5000 N | 1000 – 5000 N |
| Operating height | 810 – 1110 mm (adjustable) | 810 – 1110 mm (adjustable) | 810 – 1110 mm (adjustable) |
| Throat depth | 82 mm | 82 mm | 65 mm |
| Clear working height | 6 mm in the area of the finger guard system | 6 mm in the area of the finger guard system | 6 mm in the area of the finger guard system |
| Height | 1300 mm | 1300 mm | 1300 mm |
| Width | 600 mm | 600 mm | 600 mm |
| Depth | 650 mm | 650 mm | 650 mm |
| Weight | approx. 150 kg | approx. 180 kg | approx. 200 kg |
| Activation | foot pedal | foot pedal | foot pedal |
| Optional accessories | crease-free attachment technology | crease-free attachment technology | crease-free attachment technology |
Subject to technical changes